There are some newly published adult fiction, non fiction and mystery so that folks can see what is new!  They can peruse by the window.  Thank you!
We are excited to announce that we will begin curbside service to the community on Wednesday, May 27! At this time we are limiting each patron to 5 items at a time. Also, please be aware that we are very short-staffed. We will do our best to fulfill your requests as quickly as possible, but please be patient, as (depending on demand) it may take a couple of days to get your items together and placed outside. Per public health orders, we strongly encourage all patrons to utilize masks when picking up and dropping off library material.
Here is how it will work:
1.We encourage you to visit the library catalog at
and find titles you would like to check out PRIOR to calling the library. Please have additional requests in mind in case the titles you have chosen have already been checked out. DO NOT PLACE HOLDS THROUGH OUR ONLINE CATALOG. Since the courier system is not in service at this time, we can only offer items that are available in our library (an example is shown here):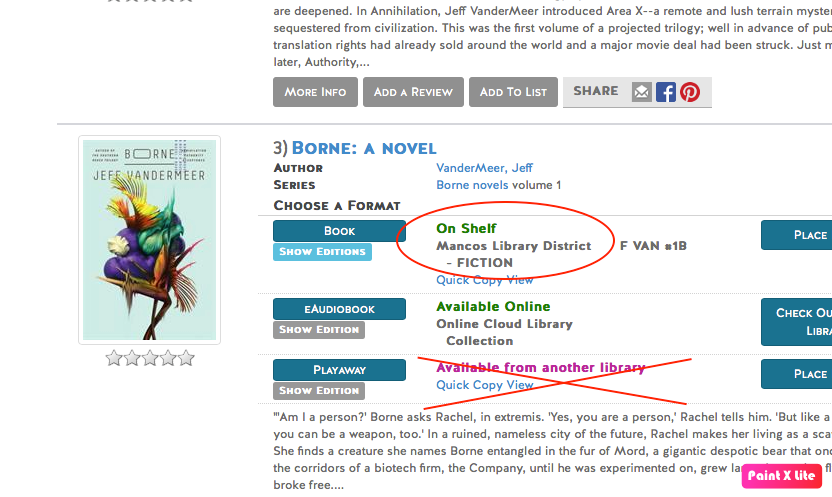 IF you do not have internet access and are unable to view the catalog and self select items, you may call the staff and give them as much detail about what you would like and we can select options for you. Please be prepared to describe favorite genres, authors and subjects, including some titles that you have already read. We will do our best to find something that suits your interest!
2.Call the library at (970)533-7600 anytime between 10am and 5pm on Monday, Wednesday or Friday starting Wednesday, May 27 to reserve your pickups. IF YOU GET VOICEMAIL, please leave a message and a staff member will call you back when they have an opportunity. All calls will be responded to in the order they are received.
3.Staff will give you an option of an available time slot (1/2 hour window) to come and pick up your material. It is important that you honor this time, to give staff a chance to pull your material and to make sure that everyone is not showing up at the same time. If you are unable to make it at the designated time, please call the library and we will assign you another available time slot.
4.Staff will pull your material, disinfect it, and place it on a book cart outside with your name on it for you to collect at your designated time. If any of the material is unavailable, they will call you back to see if you have any alternative selections. We highly recommend that you disinfect the materials again when you get home – discard the plastic bag, wash your hands, wipe down hard surfaces of the material with a disinfectant wipe, and wash your hands again.
5.You can return the material at your convenience utilizing our outdoor book drop.
During this time, we will also be allowing patron use of the library laptops to check email and take care of other needs. Use will be limited to one hour per person, and patrons are encouraged to remain in their vehicle or wear masks and use proper social distancing on our front porch. Please call the library to arrange your reservation of a laptop at (970)533-7600.
Further opening plans are still in the works and depend on a lot of variables, so the building will remain closed to the public for the time being. Please continue to check back for further updates as the situation changes.
All library programs, classes, events and outreach activities will remain cancelled until further notice.
We will continue to renew books and waive overdue fines as necessary.
Our wi-fi will remain on and patrons will still be able to access from outside the building.
Network: Guest, Password: Guest123
For those that have internet access at home, continue to monitor our Facebook and website from home for updates and remote opportunities to engage.
Reminder of our digital services – ebooks, e-audiobooks, and Kanopy movie streaming are available through the library website and catalog.
If you have any questions about these or any other library services, please email me at lhallberg@mancoslibrary.org and either I or a member of library staff will do our best to respond and assist you.
We urge everyone to continue to check with vetted sources of information on the outbreak like the Center for Disease Control, the Colorado Department of Public Health and Environment, Southwest Health Systems, and San Juan Basin Public Health. Additionally, for local information on closures and restrictions check with Montezuma County or Town of Mancos.
We have a dedicated staff who loves to serve, and it has been hard for us to not be there for you. We appreciate all the support and understanding that we have received from the community during this time, and we hope for your continued support as we work to getting back to some semblance of normal.
Sincerely,
Lee Hallberg
Executive Director