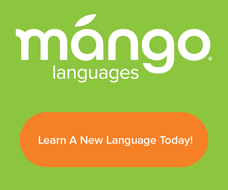 We are excited to announce Mancos Public Library patrons now have FREE access to Mango Languages — an online language learning platform that offers dozens of languages.
You can use Mango as a guest or create an account in order to track your progress.
TRACKING YOUR PROGRESS — If you want Mango to keep track of your progress you will need to create an account. This account is separate from your library account.
AT THE LIBRARY — You can simply click Guest Access to get started or create an account if you want the software to track your progress.
OUTSIDE THE LIBRARY — You will need to enter your library card number to use Guest Access or to create an account.
CLICK HERE TO GET STARTED AT THE WEBSITE or download an app for your phone or tablet.
There are also apps available for Apple and Android devices.
Need some help?
You can schedule a one-on-one tech help session. Call the library to make an appointment.